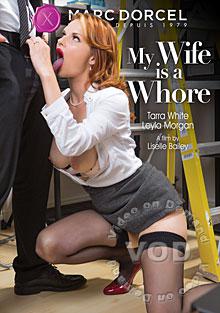 My Wife Is A Whore makes infidelity look a whole lot better than you're used to. Just when you think you have seen it all in the world of porn, there always seems to be someone who comes along and puts a new spin on a scenario to make it new and refreshing. Marc Dorcel is known for not only the most luxurious scenes in porn, but the studio seems to know what every red-blooded male (and female!) wants when it comes to porn (no pun intended). Dorcel is well known not only for artistic porn scenes, but for telling a story while getting you off. My Wife Is A Whore doesn't disappoint. Featuring six scenes of hard-hitting, hardcore drilling that ends with everyone (including you) getting the happy ending that is so desired.
Every man wants a lady in the streets, but that lady also needs to be a freak in the sheets, right? Tarra White is the woman for the job! Not only does she sock it to her hubby so good, the insatiable red-head is sex personified and is more than ready to prove it. For Tarra, it's not who you do but how you do them, and with her sexy body and pouty lips, who wouldn't want to do her?! No task is too great or too small which is evident when she takes on any and every cock that comes her way! She shows no shame in flirting with her co-worker (Juan Lucho) to instigate a sizzling hot office liaison in scene 2 before moving on to give Mike Angelo great roadside assistance in scene 3! When Leyla Morgan gets hot and heavy with her boyfriend Luke Hardy in scene 4, Terra decides she wants a piece of that for herself. It doesn't take her long to catch up to him and a friend (Max Deeds) for a threesome in scene 5 that leaves both her holes stretched before she's covered in spunk! However, the pièce de résistance is her last and final scene in the movie. Terra apparently just hasn't had enough cock! Scene 6 features the red-headed beauty taking on four raging rods at the same time in a gangbang I don't think any of them will forget – and neither will you! Two guys has been seen and done repeatedly, but in My Wife Is A Whore, this woman goes from zero to multiple orgasms really quickly when she takes on a group of guys gangbang style that leaves her covered in cum and finally sated…for now!
Dorcel and director Liselle Bailey have outdone themselves when they cast the characters for this film. In my opinion, it is the perfect blend of fantasy meets reality. Tarra White exudes true sultriness and sexiness which is not easy to do while in the throes of passion. While satisfying her male co-stars, you can tell that she absolutely loves the position(s) she finds herself in! She doesn't bat an eyelash when it comes to getting her way! The chemistry between the actors and actresses is genuine in every scene – which makes the entire movie something worth watching without continuously scrolling through just to get to the "good" parts. Tarra White knows that she's a total whore and revels in not just her character, but the experiences as well. She's a woman who knows what she wants, when she wants it,. and doesn't hesitate to take it. It's not every day a man happens upon a woman of this caliber; nor is it every day that a woman gives in to her deepest and darkest sexual desires. Pascal's wife may be a whore…but she's just so damn good at what she does and then some!
Watch My Wife is a Whore now on HotMovies.com!